Also known as Joe Dredd, and Old Stoney Face.
I've read comics regularly since I was three or four, and as much as I love the DC Comics characters I grew up with, my weekly thrill power hit came from 2000 AD and nothing was more eagerly awaited than the latest half dozen pages of Judge Dredd.
I was one of those kids that trudged down to the newsagent in Feb 1977 and picked up issue one. I never stopped after that. Though living in Seattle these days has certainly made it harder to get hold of new issues. I could buy them in a digital format but I'm not so sure I want to say goodbye to the physical artifact (though my groaning bookshelves would certainly thank me).
I actually did a couple of episodes of Judge Dredd for the Judge Dredd Megazine way back in 1993 and I bought my first ticket to the U.S. with those earnings and that's where I met WotC. So I owe the old fascist curmudgeon big time.
And occasionally I like to sketch him and think idly about asking the guys at Rebellion if I could do another Dredd episode…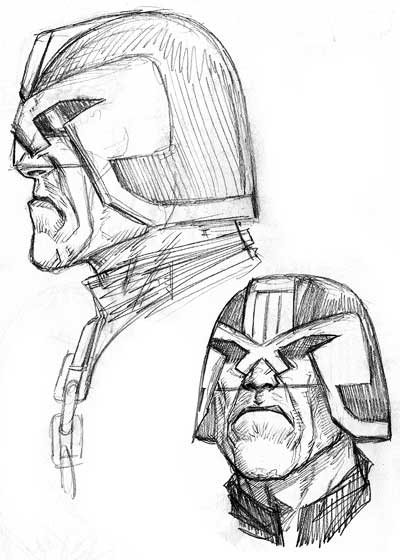 Such a grumpy old bastard! And such fun to draw.
P.S. My favorite story was Block Mania and the subsequent Sov Apocalypse. I always thought Block Wars were the coolest damn idea (Narratively. I sure as hell wouldn't want to see one in real life).
P.P.S. Brian Bolland is the Man.
P.P.P.S. I'm keeping my fingers crossed for the new Dredd movie starring Karl Urban. I try not to think of the Stallone version which was a squandered opportunity.