It's Halloween, so time for a couple of suitably unpleasant pictures that – bonus! – you've probably never seen before.
These images were both called 'Doom' and were destined for promo chips for the short lived game Clout which unfortunately folded before enough people could realize the game was so much more than Pogs and that even though some manual dexterity was required, the tactical aspects of the game were surprisingly meaty.
First of all, the one that really speaks to my claustrophobia. This has the unofficial title of 'Crushing Doom'…
Brr. Still makes me wince.
This next one might as well just have the unofficial title of "Ouch!"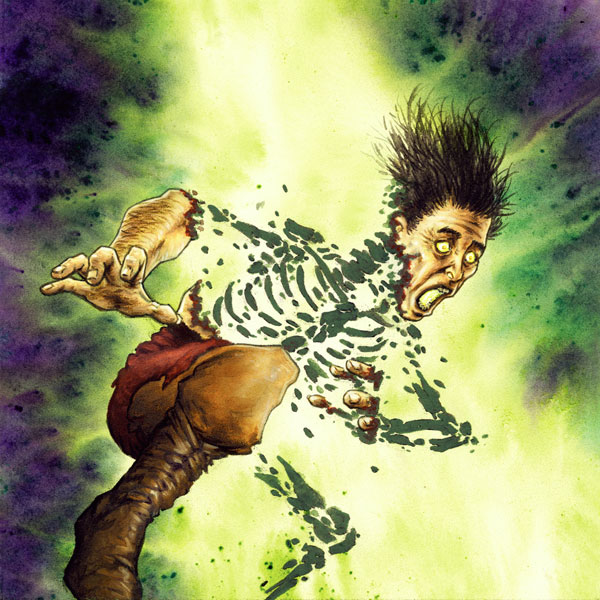 Or maybe "That'll Leave a Mark".
I find that damage that cuts along lines you don't expect are always more unpleasant to our jaded slasher-movie-going tastes. That's why rather than a clean separation of the head the energy slices through the back of the skull, and more importantly along the length of the jaw.
This second piece was also my chance to use acrylic washes working wet on wet to create the energy blast. The green paint was applied first, then washed away and re-applied, rinse, repeat, until the color's density was sufficient and nicely saturated but the edges were still soft. After leaving it overnight to ensure the green was fully dry the purple was added in washes to maintain the soft blurred edges that sell the gaseous quality of the effect. Perhaps it's a dragon's breath weapon?
Working to get a good transition between such opposing colors as green and purple is always tricky because if the purple bleeds too far into the green, no matter what you do it'll leave a trace and dull the green. I was mostly lucky and it looks like the only issue I had was in the lower right corner.
That's it for now. Hopefully I haven't ruined your appetite for all that leftover Halloween candy.