The story so far: In 1994 I created a series of promotional images for Magic: The Gathering. These pieces were meant for flyers timed for the '94 con season, and the game's first anniversary.
Unless you're one of about a dozen people, you've never seen them before. To find out why, check out the prologue to this series.
The project was to be six images, one for artifacts, and one for each color of mana.
This time it's Red.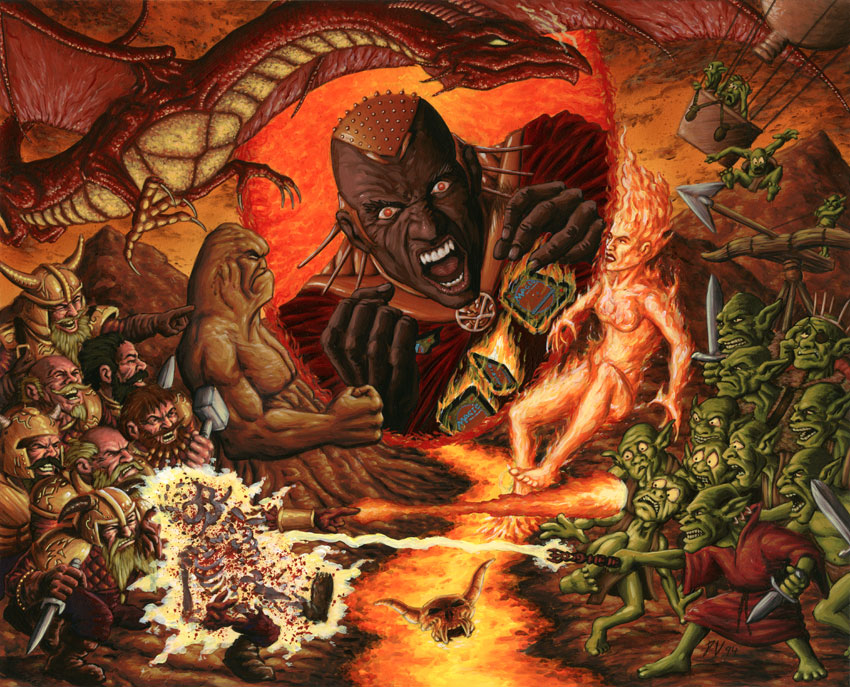 Since Red is – among other things – the color of chaos, it seemed fitting that the creatures would be fighting amongst themselves, and of course firing off highly destructive red spells.
This is only the second time I had ever painted goblins, the first time being the binder image shown in the prologue. Goblins, of course, have become a staple of Magic and a feature of my own career in the game. Back in '94 the logical opposite to the goblins seemed to be dwarves, but by 2013 it's fair to say that dwarves aren't really a big component of Red and are thoroughly, exponentially, outnumbered by goblins. If I was creating this today, the dwarves probably would have been replaced with another race.
Red is also the color of fire and flame is especially tricky to paint with non-digital media. Generally, you need to get it right first time because the underlying white of the paper is vital to producing sufficient luminosity in the flame. I hadn't quite learned that lesson yet but that's the thing with any creative profession; you've got to make the mistakes to improve.
Red is also tied in with war and anger and that's reflected in the planeswalker's demeanor. I'd keep your distance, he's not gotten his quadruple shot semi-skim latte this morning…
So, take a shot at naming all the cards in the image. I'm pretty certain that this one is far easier than the Artifacts piece. The answers to the cards in the red image are behind the cut –
Next time, we'll continue clockwise around the mana circle to Green…
Red Answers – What Cards Hidden Where?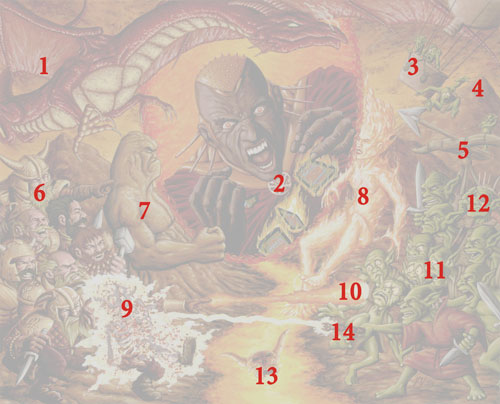 The goblin in robes had me looking through my card binders but I couldn't find any match. I suspect that he was added as a vehicle for using the disintegrate spell and it didn't seem a stretch that the goblin king would have a spellcaster in his retinue. If I'd done it now I probably wouldn't have had him be the dominant goblin in the image, but maybe I was thinking his red robes would help offset the large amount of green already filling the right half of the image.
Color balance is always tricky. Even more so in a color-themed image.