Kickstarter has been a big part of my life this last year.
Exactly a year ago today, The Gathering launched on Kickstarter. The book was greeted enthusiastically and has gotten some glowing reports from the backers who've gotten ahold of it. But it's still not done as the limited edition book and the card set are still wrapping up. Yeah, working on it a year later really wasn't part of the plan. Them's the knocks.
At the same time in Feb 2013, The Maze of Games Kickstarter was in full swing. For that book my primary involvement was producing the artwork. The 40+ illustrations created are why Summer 2013 was something I heard about but didn't really experience. That book should be printed by now and wending its way to the US from overseas.
Well, apparently I just can't get enough of Kickstarter because I'm currently involved with James Ernest's new "pub game" Pairs. It's called a "pub game" because it's something you can learn in 3 minutes and can join or leave at any time. It's the ultimate in casual gaming. What impresses me most is its elegance; simplicity without sacrificing strategy. Props to James and his co-designer Paul Peterson.
So, what does this have to do with goblins? Well, the Pairs Kickstarter is adding stretch goals for decks with different artwork, and mine is a goblin deck! Kind of 'Goblins through the Ages'! Here's the Musketeer Goblin and the proposed card-back I designed –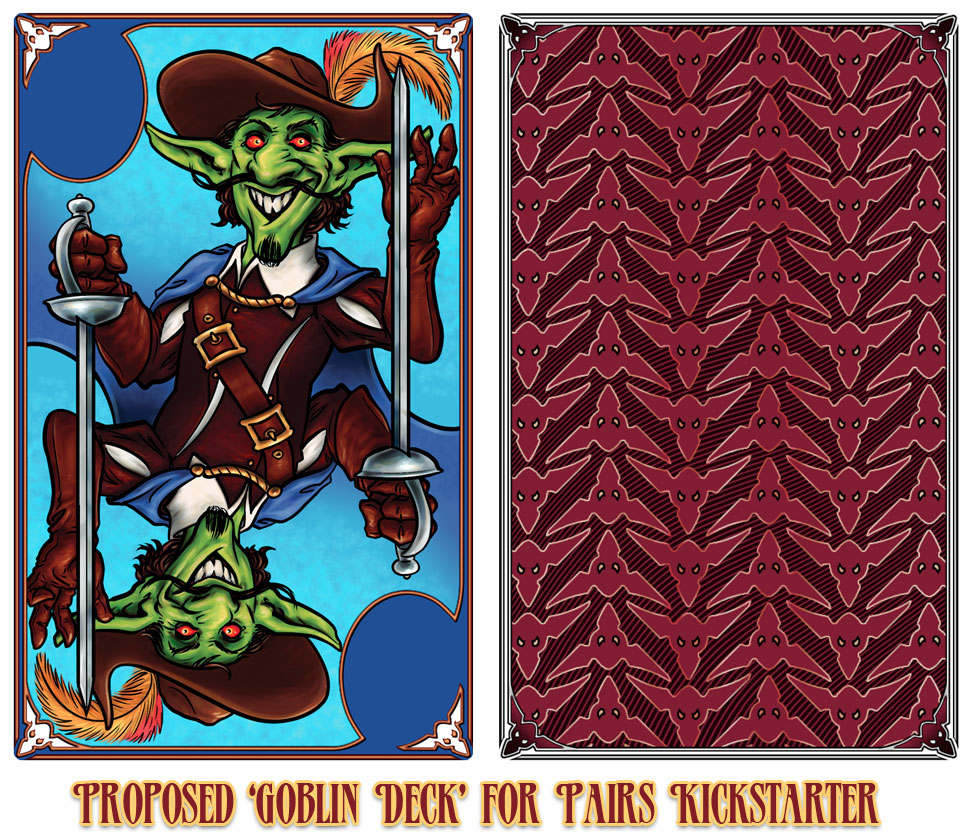 The Kickstarter reward tiers are for numbers of decks, but not specific ones. A little while after the Kickstarter wraps, backers will receive a survey where they can pick which ones they want from those unlocked by the stretch goals. Mine's not unlocked yet, so please help back the project reach (at least) $100K and ensure this goblin deck gets made!
Finally, here's a few sketches of other potential goblin cards – the prehistoric goblin and the cyberpunk goblin!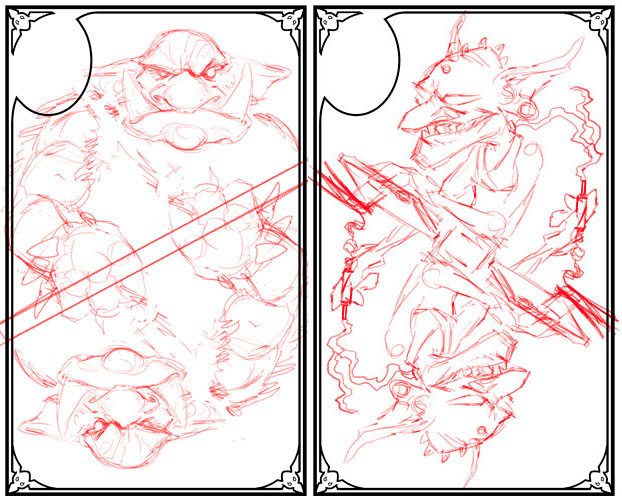 Yeah, could be lots of fun.